Posted in
Blockchain
Storj + 24% Biggest Crypto Gainer Today- Storj Price Prediction
Storj, a decentralized storage network, recently saw a significant jump of 24% in the price of its native token, when the value of Storj crypto increased from $0.37 to $0.49 last week. The value went even high to the figure of $0.54 on June 17.
This platform has gotten a lot of attention for allowing users to store and exchange data without relying on a third-party storage provider through its encrypted peer-to-peer cloud storage services.
The price activity of Storj has caught the eyes of many investors as it has made a huge rise from the value of $0.33 (June 15) to $0.54 (June 17) in recent times. Though the token has been trading currently at a value of $0.44, still the market analysts are hopeful about the bullish run of this cryptocurrency on the price charts in the upcoming months.
Invest in Storj via FCA Regulated eToro
Your capital is at risk.
Recent Price Activity of Storj
Storj is currently trading at a price of $0.44, with a 24-hour trading volume of $147,266,585 and a circulating supply of 396,726,351 coins. It has witnessed a reduction of 4.34% in its value in the last 24 hours. As of now, the token is ranked in the 120th spot in terms of its capitalization in the crypto market.
What are the Unique Attributes of Storj?
Storj is an open-source cloud storage platform that works by keeping user data safe on a decentralized network of nodes. Advanced encryption is also used to protect data hosted on the network. Shawn Wilkinson, a software developer, and John Quinn, a co-founder, founded Storj in May of 2014.
Shawn Wilkinson and John Quinn published the first white paper describing the concept in 2014. Storj Labs was founded in May 2015, and the platform went live in 2018.
The Storj token is based on the Ethereum blockchain, which allows for the creation of decentralized Web3 apps. It is used by the platform as a medium of exchange. The company does not operate its own data centres; however, it does allow people and organizations to share unused or extra storage space. Participants in the network are called nodes, and they are rewarded with Storj tokens.
Storj is special in many ways as a decentralized cloud storage network. For example, it operates on a larger network of separate computers, unlike standard cloud storage systems that gather data in massive data centres.
Buy Storj via FCA Regulated eToro
Your capital is at risk.
By downloading Tardigrade, any individual with a few additional terabytes of storage can have the status of a node on the network. All that's needed is a steady and reliable internet connection. Because of the network's effectiveness, users pay significantly less for data storage than they would if they used typical cloud storage services.
Portions of every document are distributed to a worldwide range of independent nodes after it is uploaded to Storj DCS (Decentralized Cloud Storage) by the user. Whenever anyone wants access to the file, then, in that case, the document is recompiled and made accessible for downloading in a safe manner. This indicates that any person can use Storj DCS to keep their data safe without relying on a central data center.
Why is Storj in News?
Recently, Storj has been in the news for launching its new service, InterPlanetary File System (IPFS), for NFT artists, developers, and creators. This feature will allow them to save their digital collectables, like art, movies, and music, in Storj DCS for minting as NFTs. The launch of this IPFS pinning service caused a 15% spike in the price of its token.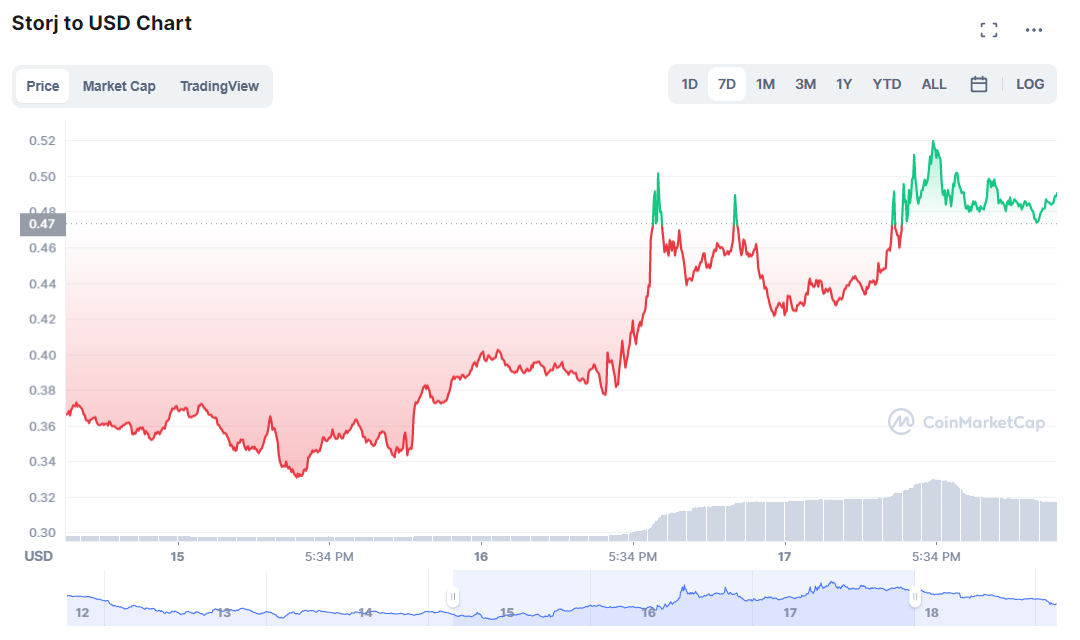 Storj Coin Saw Recent Spike in its Price
Storj IPFS pinning services cost a set price per MB and time period, which users can pay with their wallet address. Right now, Storj has a decentralized storage network of over 13,500 nodes for its IPFS pinning service. Since there has been an upward craze about NFTs, Storj DCS will surely benefit from its IPFS services.
Invest in Storj via eToro Platform
Your capital is at risk.
Storj- a Good Investment? A Look at Storj Price Predictions
With the launch of Storj DCS, Storj is taking the right steps toward a decentralized internet. The DCS allows developers to take advantage of storage's unrivalled privacy and security features. Considering these promising prospects, the general opinion for the Storj price prediction from a variety of market analysts is for a slightly bullish trend in the upcoming years.
Experts believe that the price of Storj will be around $0.78 by the end of this year. By the end of 2023, there is a good chance that the value of Storj will burst through the $0.91 mark and dominate the market. Storj is expected to have a floor price of $0.69 and the highest value of $0.95 by 2024. By 2025, Storj is anticipated to reach the highest price of $1.27. The minimum projected price for the coin is $1.27.
Your capital is at risk.
In the year 2026, Storj will have experienced remarkable expansion. The cryptocurrency's highest value is projected to be $1.54, with a median price of $1.20. The coin's lowest possible price is expected to be $1.08 that year. Looking at these price predictions, Storj is anticipated to have a good run on the market charts in the upcoming times.
---