Posted in
Blockchain
NEO Price up 8% to $62, Next Stop $100? Where To Buy NEO
The NEO price has  recovered from its dip below $40 and looks set to advance further. NEO is one of the great survivors from the last mega upswing for crypto in 2017. NEO is a smart-contract platform based in China.
It is this Asian provenance that makes we think makes it particularly attractive. That may strike you as counter-intuitive given the supposed distaste of the Chinese regulatory authorities for all things crypto, but that is based on a common misreading of the situation.
Chinese regulatory concern about the Wild West nature of some corners of crypto, such as the ICOs of yesteryear or the 'unproductive' mining industry of today, is not to be confused with the government's love of all things blockchain.
NEO – China's Ethereum is worth a look
The Chinese government has identified blockchain as one of the key technologies for 'Fourth Industrial Revolution', with President XI talking about "seizing the opportunities" the technology presents for all areas of industry and commerce.
NEO as one of the premier blockchain projects in the country is well-positioned to be the blockchain of choice for multiple projects in the country. As such it is often referred to as 'China's Ethereum'.
China's schizoid approach to crypto explains why on the one hand it can reiterate the banning of crypto in payments, but on the other Li Bo, the deputy governor of the People's Bank of China, could say in April that crypto assets such as bitcoin could be used as investment tools and even alternative investments.
NEO strong on regulatory compliance and business focus
We might add here, that is is by design that NEO has a strong emphasis on regulatory compliance and is targeting business use for its technology. We think those are both smart moves, especially in the Chinese environment, but more widely too.
After those comments the NEO price went on a rocket ride. It has come back down to Earth since then, as the Elon Musk and China clampdown news flow triggered a deep correction in the frothy crypto market.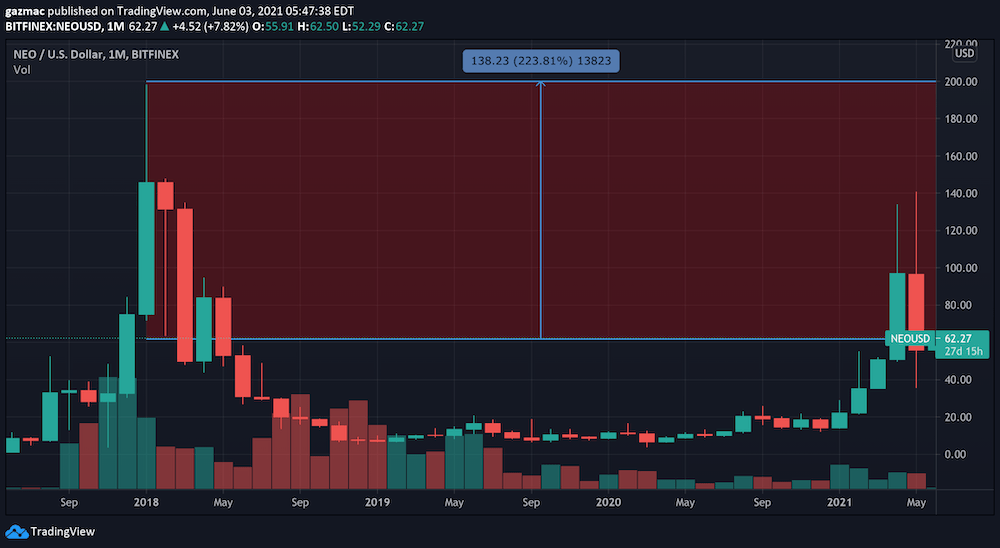 The price hit its all-time high (ATH) of $198 in January 2018 was priced at $62, up 8%, earlier today, but has slipped back a little. In May the price managed to touch $140.
Chances of the price reclaiming its all-time are good and stand in sharp contrast to the ATHs recorded by a host of other top 30 cryptos, meaning the coin has an excellent risk-reward profile at current price levels.
For NEO to reclaim its ATH it will have to rise by $138, which would represent a 223% gain on the current price (see the 1-month chart above).
In the meantime, our near-term target eyes $100.
We rate NEO a strong buy at these prices.
Where to buy NEO
You can Buy NEO on all good crypto exchanges and a number of leading investment platforms.
eToro – check out this fast-growing use-friendly platform
Top global investment platform eToro with more than 15 million users around the world, is a good place for beginners and experts alike to buy NEO. The site charges no fees on trades, but you do have to pay the spread between the buy and sell price.
The platform is excellent for education and by way of competitive advantage, is the leader in social trading. Social trading is the system where you can copy other traders on the platform. eToro has also created CopyPortfolio, some of which target cryptoassets, and you can invest these funds, which are similar to index funds built around particular investment themes.
Kraken – a solid pick
Kraken is a US-based exchange that has been around for a while. It was the first exchange in the US to get a bank charter and should be considered one of the top-tier crypto exchanges. Kraken supports 56 crypto markets. Fees vary between 0% to 0.26% per trade.
Looking to buy or trade NEO now? Invest at eToro!
75% of retail investor accounts lose money when trading CFDs with this provider
---