Posted in
Blockchain
Dogecoin Price Up 30% to $0.41 After Coinbase Pro Listing – Where to Buy Dogecoin?
Coinbase has announced the listing of dogecoin on its pro trader platform – the price of the meme coin immediately jumped and is currently trading at $0.418. The one-time joke coin has risen 30% since yesterday.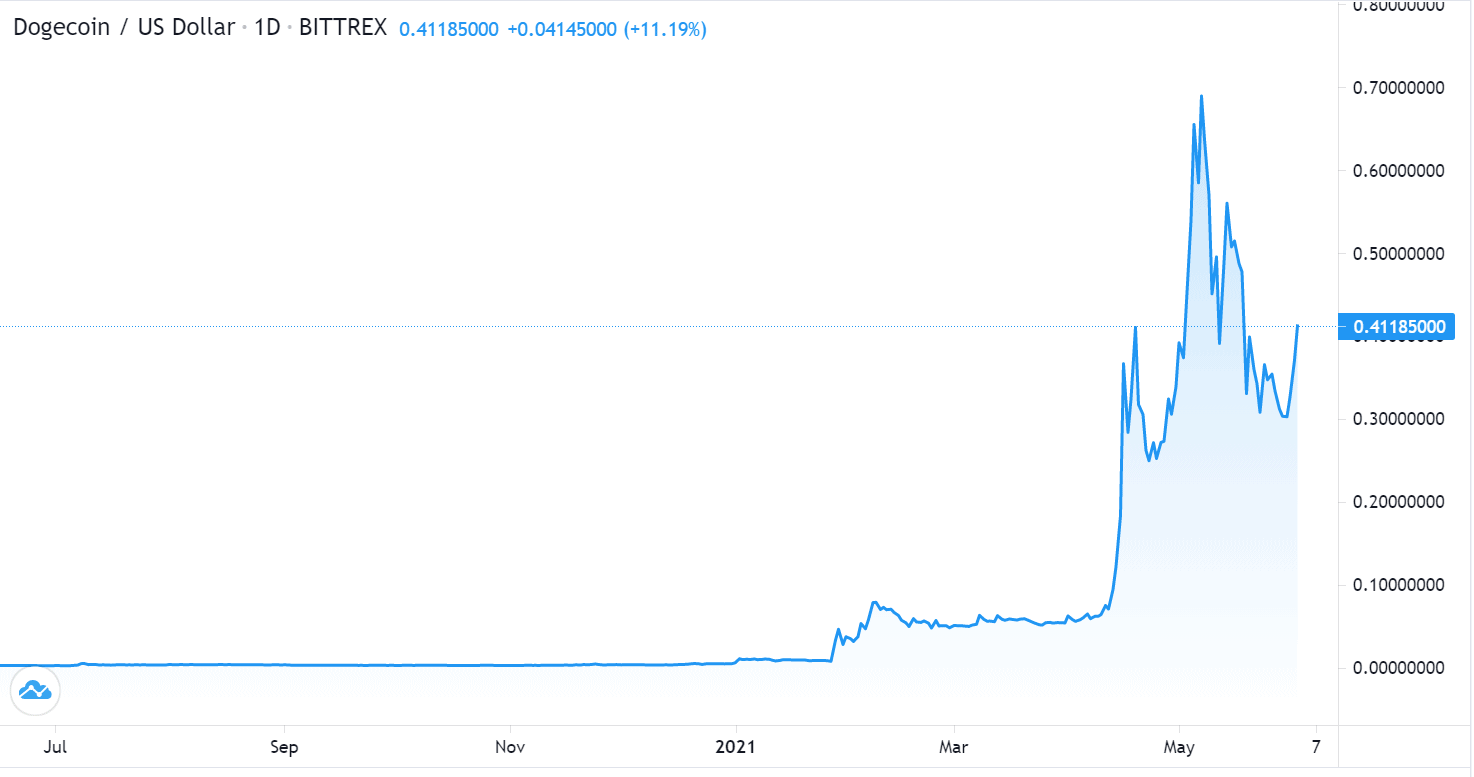 Also, Elon Musk, the CEO of Tesla, followed suit by reposting a meme predicting that DOGE might soon rule the financial system.
It's inevitable pic.twitter.com/eBKnQm6QyF

— Elon Musk (@elonmusk) July 18, 2020
Coinbase opens a wider door for speculators looking to trade DOGE by adding the coin to its listings. Despite its existence for some years now, dogecoin's recent popularity explains the new addition by the leading crypto exchange. By not listing DOGE until now, Coinbase has missed out on substantial trading fees during the time when the memecoin was at the height of its frenzied popularity.
In a blog post, Coinbase declared its readiness to support inbound transfers immediately in Coinbase Pro.
This announcement reveals the availability of dogecoin for Coinbase professional traders. The features in the Coinbase Pro platform enable its users to indulge in critical technical analysis. Also, the users can easily access multiple cryptocurrencies for trading.
Thus, these traders can trade USDT and BTC using DOGE, the token for dogecoin. This is similar to what is obtainable with prominent fiat currencies like GBP, USD, and EUR.
What Coinbase Plans for DOGE Future?
As per Coinbase, Dogecoin will likely be available for trading in approved locations by Thursday from 9 a.m. Pacific Time. This can only be possible if the meme coin records sufficient liquidity. Initially trading on Dogecoin may be fairly thin.
Also, Coinbase indicates its intention of launching three phases in dogecoin trading. The phases are full trading, limit-only trading, and post-only trading.
The company says that its continuation in any order books is dependent on the health and orderliness of the market. Where its assessment shows a deficit, the company will deviate. It may then retain the book longer for a state or may call for its suspension.
Coinbase also reveals that the meme coin is still unavailable on mobile apps for consumers and its basic website.
It promised to release a public notification once its support system makes the addition to those apps. Retail investors now have even more options on where to trade DOGE.
Where to Buy Dogecoin
Coinbase is yet to avail for retail investors, the purchase of dogecoin on both its primary website and consumer app. However, dogecoin is now available for your purchase from eToro, Binance, and Bitpanda.
eToro – eToro is the right place to buy dogecoin when your interest is to leverage on the coin's price changes. Using eToro gives you the cheapest cost, and it's also very easy to make your purchase. Through the use of any fiat currency (GBP, USD, etc.), you can exchange DOGE. Also, eToro has a user-friendly interface that is great for all levels of users.
Binance – As one of the largest crypto exchanges, this platform helps you to buy both DOGE and other cryptocurrencies of your choice. You can easily make your payment with any of the various traditional currencies. Also, the pay mode options are quite wide so you will never be left out.
Kraken – The use of Kraken enables you to make your purchase through a wire transfer or a funds deposit. Also, it offers the option of using SEPA deposit that is free and fast for users in Europe.
---