Posted in
Blockchain
5 Ways the XRP Price Can Reach $2 – Is XRP a Buy Today?
Crypto market valuations have been hammered lately, leading many to ask whether the bullish trend may have ended.
However, while Bitcoin struggles to find support in the mid-$30ks, some other top tokens, although not back at recent highs, have nevertheless been making significant gains – XRP among them.
As the crypto market tentatively starts to recover some of its lost glory after $1 trillion worth of cryptocurrencies was wiped off the market in Mid-March, certain coins are showing resilience.
Ripple's XRP is one of the tokens that has been recovering most impressively. According to market chatter, the token may even reach $2 in the near term for the following reasons:
1) Ripple's Recent Win Against SEC
Ripple has been locked in combat with the SEC in a lawsuit that started in December 2020. The SEC filed a lawsuit against Ripple, stating that the firm was obtaining money from investors through an unregistered securities offerings. The lawsuit negatively impacted the XRP price.
However, since the lawsuit began, Ripple has managed to win on several fronts, such as a discovery dispute win against the Securities and Exchange Commission in April, which pushed Ripple's price past $1.
Additionally, Ripple recently won on another dispute with the SEC when the judge ruled against the regulator obtaining access to Ripple's legal communications. This win has tilted the observers towards the belief that the case will end with Ripple winning – such an outcome could push the XRP price beyond $2.
2) Ripple's Plans to go Public
Ripple is also allegedly making plans to become a public company. The CEO of Ripple, Brad Garlinghouse, announced that the likelihood of Ripple going public was high and would possibly happen sometime after the case with the SEC is resolved.
If Ripple were to go public, the price of XRP will go up and possibly reach $2 because it will boost investor confidence in Ripple and consequently in XRP.
3) XRP Better regulations
US financial market watchdogs are looking at ways they can regulate the crypto sector. While this may be hurting the crypto market now, some crypto community members believe that the regulations could benefit cryptocurrencies in the long run as it would remove uncertainty and provide clear on- and 0ff-ramps for institutions.
Brad Garlinghouse recently spoke about regulations in an interview with CNBC's Squawk Box, where he stated the US needed to clarify crypto regulations. If this happens, the value of XRP and other currencies will shoot up past $2.
4) Unique market position
Some market analysts also state that Ripple will succeed in the future because of its unique market position. Ripple's ecosystem does not revolve primarily around decentralized finance apps aimed at individuals but is instead used by financial firms worldwide.
Against the background of a highly volatile cryptocurrency sector, Ripple's more established business to business use cases XRP may stand it good stead to get through future turmoil. As such, the price of its XRP token may shoot up even when the rest of the crypto market remains bearish.
5) XRP Market Analysis
Market predictions by analysts and crypto-tracking firms also show that XRP may hit $2 before the end of 2021.
Digital Coin, a cryptocurrency price forecast website, showed the possible price movement of XRP in 2023, which indicates the token will reach $2.62. If this happens, it will be a great stride for the virtual currency.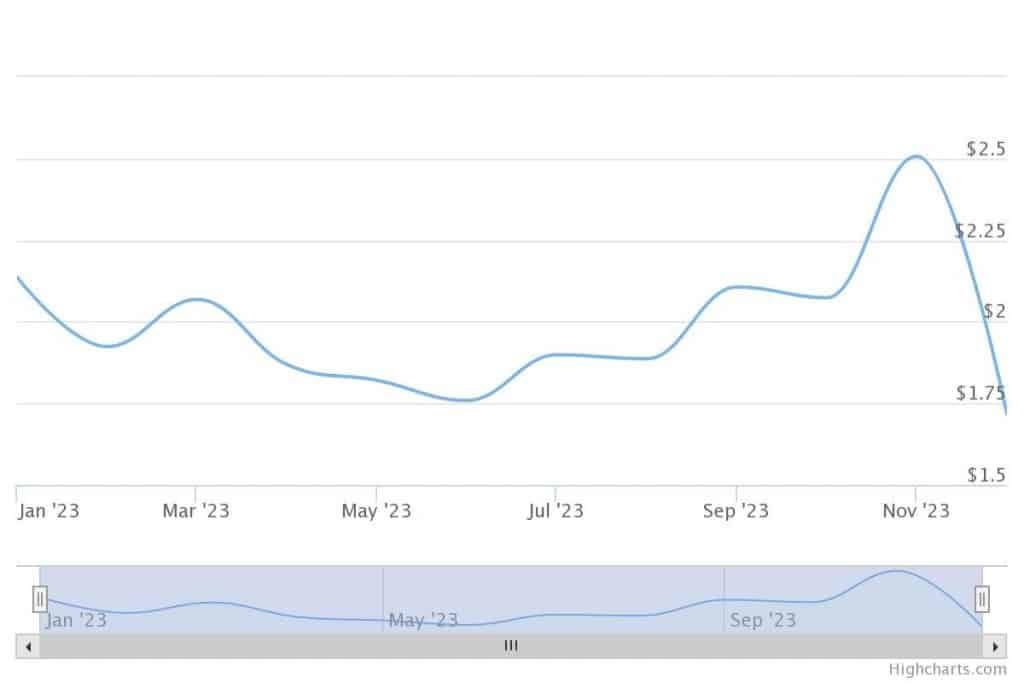 Looking to buy or trade Ripple (XRP) now? Invest at eToro!
75% of retail investor accounts lose money when trading CFDs with this provider
---