SCOTTEVEST Goes on the Road, Hits the Travel Show Circuit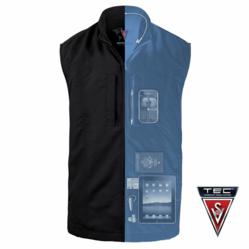 Ketchum, Idaho (PRWEB) February 21, 2013
TEC by SCOTTEVEST is headed back on the road again.
The manufacturer of the coolest travel clothing on the planet will be jetting its way across the USA, exhibiting a selection of its popular travel vests at the Los Angeles Times Travel Show (Los Angeles Convention Center, booth #311/313) from February 22 24; the Las Vegas Travel Goods Show (Mandalay Bay, booth #1724) from February 27 March 1, and the Washington DC Travel and Adventure Show (Washington Convention Center Booth, booth #531/533) on March 9 and 10.
But why is a company specializing in high-tech clothing exhibiting its products at travel shows largely focused on destination vacations and exotic cruises? Well, sophisticated travelers know they have to get there in style andin an increasingly high tech worldwith all their gadgets and gizmos close at hand.
TEC by SCOTTEVEST (http://www.SCOTTEVEST.com) makes Technology Enabled Clothing